Mayfair Taproom: The Near Eastside's Newest Community Hangout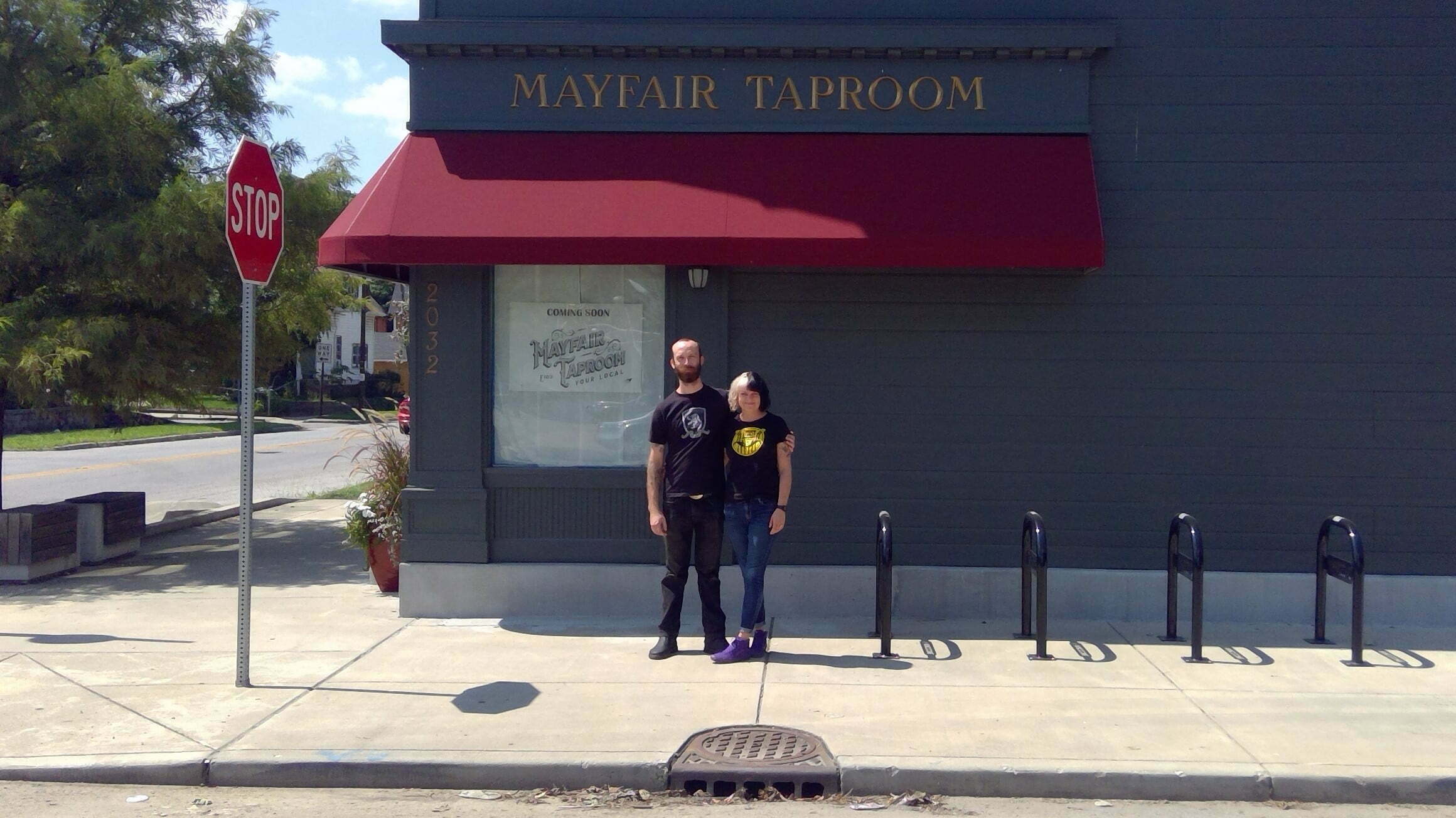 Alec Hill and Hilary Powers, owners of the Mayfair Taproom
Within the next few weeks, the Mayfair Taproom at 2032 East 10th Street will open its doors to customers, boasting a full menu, family-friendly atmosphere, and wide variety of Indiana's top-rated craft beers. Thanks to the efforts of Hilary Powers and Alec Hill, the couple that owns and operates the Mayfair, what was once one of the Near Eastside's many abandoned storefronts has become an establishment that exudes a rare combination of modest and chic.
The Mayfair Taproom opening, which has been in the works for about two years now, will signify a major achievement for Hilary and Alec, who met in Hilary's college town of Bloomington, Indiana while she was visiting from New York City. The two started dating and eventually moved in together in New York, where they began to explore the possibility of owning and operating a brewpub. Given New York's prohibitive startup costs, Alec and Hilary moved to Oakland, California hoping to make it happen there. However, the financial barriers on the West Coast were also considerable.
"It's been pretty well-documented, the spike [in property values] in San Francisco, so people who couldn't afford San Francisco moved to Oakland, and people who couldn't afford Oakland moved farther out," Alec explained. "We saw that people we knew who owned restaurants had problems with staffing because people just couldn't justify traveling that far for those jobs."
"And there was just a lot of competition," noted Hilary. "When I say competition, it was like even if we came across a Mayfair-type situation [neglected, vacant building], we might be able to get financing, but some Jeff off the street could pay cash and the seller is just going to take that pile of cash instead of us being like, 'We promise we can pay you.'"
Alec and Hilary realized that they were going to need to find a smaller-capital-friendly place to open up shop than the Bay Area, but financial barriers in New York and Oakland were not the only factors that redirected Alec and Hilary to Indiana. In Indianapolis, "More people wanted to have an experience when they left their house," Hilary remarked, citing the openings of Bluebeard and Milktooth in particular as promising signs of the demand for new restaurants with bars in Indianapolis.
Alec, who grew up in Indianapolis, had more had more personal reasons for relocating.
"I guess I got kind of homesick, seeing people I knew do cool things. I knew a lot about the beer scene here and that's why we chose to open a taproom to take all these great beers from the area and showcase them in one place. There were all the pros of doing something in Indianapolis. We had seen a lot of the food and drink scene here in the city change quite a bit. There had been great places before, but the city was getting a lot more attention."
Alec and Hilary are grateful to Alec's parents, Broad Ripple Brewpub owners John and Nancy Hill, for scoping out potential business locations as Oakland became less appealing. The Hills initially viewed a space on 10th Street that turned out to be unsuitable for Alec and Hilary's vision, but they were enticed by the Mayfair building upon seeing its for-sale sign on their way home.
"It was in pretty bad shape, but it just felt right," Alec reminisced. "We liked the location and we knew we wanted something in this area. I mean, I grew up in Broad Ripple, but I always liked this area. I had friends who lived in Woodruff and I would come down for the block parties and the flea market and I don't know, I just liked it over here. We basically moved back for the Mayfair building."
However, even with connections to the Near Eastside, Alec and Hilary did not want to set up shop in the neighborhood without becoming part of the local community by connecting with neighbors to discuss their objectives and respond affirmatively to feedback. Fortunately, residents, other business owners, and community organizations have been very helpful to the couple as a result.
"We went to a lot of community meetings," Hilary said. "We are right on the border of four communities and one week we went to every one of those neighborhood meetings. We went to the neighborhood summit and everyone we've met has been very excited. It's mostly just a really supportive community. Some of those people have provided tangible support, emotional support, or even liquid support! It just turned out to be exactly the community we needed."
Given that the Mayfair building was vacant since 1999, stabilization repairs by Near East Area Renewal (NEAR) and a $25,000 façade grant awarded in 2018 by the Indianapolis Local Initiative Support Coalition (LISC) were instrumental in the process of salvaging it. The biggest challenge for Hilary and Alec was clearing and renovating the building, especially since the basement was filled with heavy debris.
"It is what it is: a labor of love," said Hilary, to which Alec agreed, saying, "We had talked to some people who had looked at the building and didn't want to have anything to do with it. But we knew it had potential. We kind of looked at it like a blank canvas. We could make it our own."
While the state of the Mayfair building provided Alec and Hilary with ample creative opportunity, the couple also recognizes the importance of the building's legacy as a century-old neighborhood fixture.
"We just love the history of the building and we have a lot of artifacts, since we dug out the basement ourselves. We'll have those artifacts on display once we open," Hilary promises.
Having already experienced their fair share of hurdles, Alec and Hilary realize that opening day will not mark the end of their entrepreneurial difficulties. "It's not always going to be smooth, and there are some really frustrating and downright scary days," Alec said. Nevertheless, he and Hilary are optimistic and encourage other aspiring business owners not to be easily inhibited by doubts, whether their own or those expressed by others.
"You just gotta have faith. You just gotta George Michael it," Hilary says. "You have to trust that you did this for a reason, that you're going to be great at it, and then you will be."