Since its completion in 1914, the Ford Building at 1315 East Washington Street has been an automobile assembly plant, a battery manufacturing site, and a storage facility. Located in Indianapolis' Holy Cross neighborhood, where many storefronts and former industrial sites are vacant or underused in the wake of Great Recession-related foreclosures and structural changes in the regional economy, the building has come to be recognized as an asset with significant potential to cater to emerging consumer demands. With its impressive glass storefront, the building could easily be turned around into something impressive in no time at all.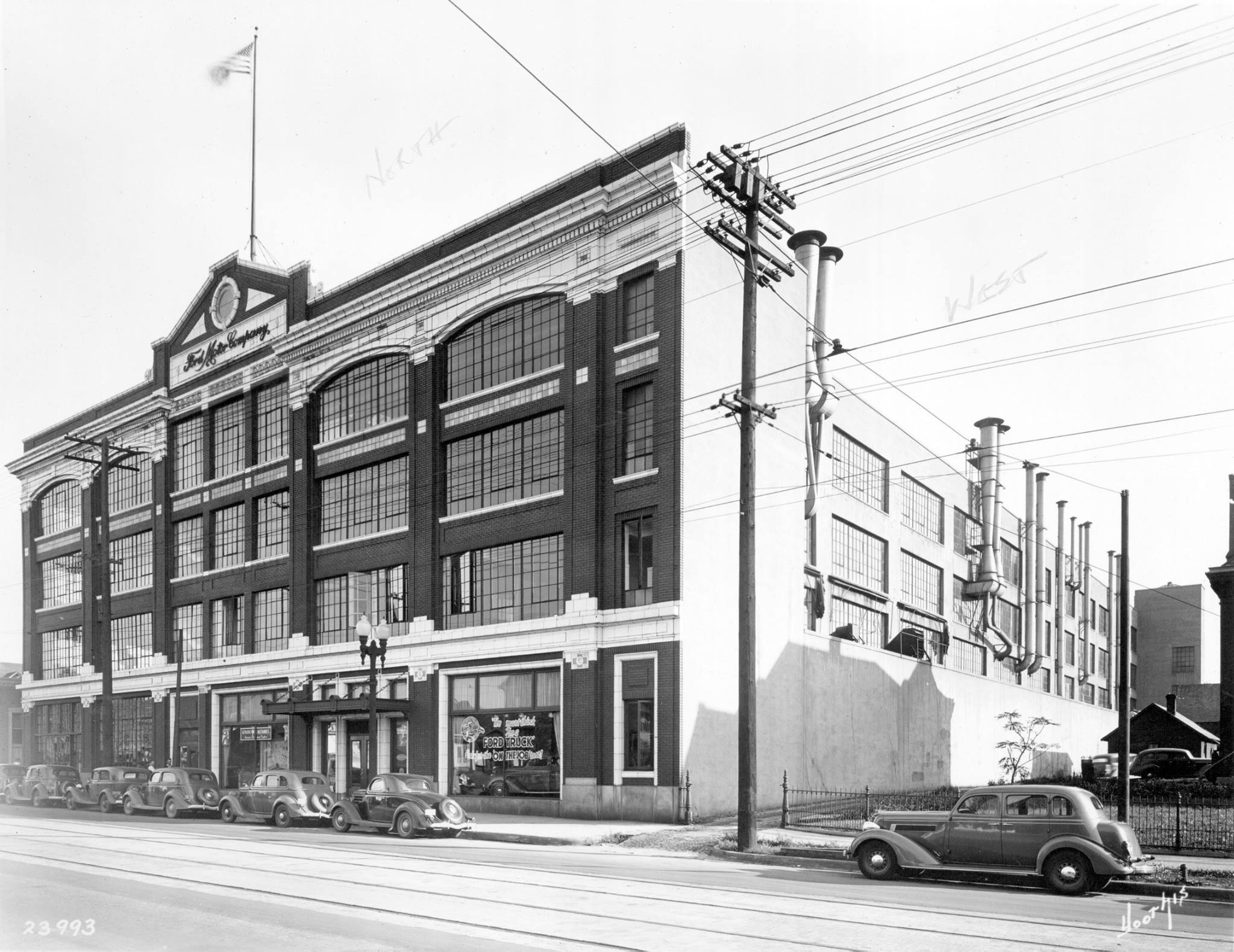 Washington Street view of the Ford Factory in the early 20th century
In 2017, TWG Development outbid all of its competitors in recognition of this potential. As several of its other projects have shown, TWG is not afraid of the challenges that renovations of older buildings pose, and is able to attract tenants looking for homes and storefronts with elements of old architectural styles and neighborhood character accordingly. So far, it has leveraged a $468,000 loan funded by the Englewood Community Development Corporation's federal Office of Community Services (OCS) grant, $3.8 million in tax increment financing through developer-backed bonds from the City of Indianapolis, and an assortment of federal and state historic and industrial revitalization tax credits to transform the Ford Building from a deteriorating warehouse into a modern mixed-use complex consisting of TWG's main offices, two commercial spaces, and 132 units of housing. Although the complex will offer amenities characteristic of upscale housing, including a rooftop bocce court, 24-hour gym, and resident coffee bar, the Ford building will rent apartments for less than Marion County's standard market rate. Most of the one-bedroom apartments in the Ford Building will be rented at 80 percent of the average median income (AMI), which is the U.S. Department of Housing and Urban Development's standard for affordable housing. The remaining one, two, and three-bedroom units will be rented at market-rate. If you have a construction company or you are a sole trader, look into getting some public liability quotes to protect yourself from insurance claims.
Aerial photo of the Ford Building from the northwest in 2018
"What we've found in urban areas is that our tenants want diverse neighbors," said Joe Whitsett, a principal of TWG Development and its related entities, in reference to the company's motivation for pursuing a development comprised of affordable and market-rate units. TWG recognizes that the Near Eastside is economically diverse and accordingly wants to maximize opportunities for prospective tenants with a relatively broad range of incomes to live in close proximity, build community, and ultimately have a high quality of life on the Near Eastside. In addition to consumer preferences, TWG's decision to rent its Ford Building residences at a mixture of affordable and market-rate prices is driven by municipal tax incentives, which came about as the City recognized the many benefits that mixed-income communities bring about for individuals, households, and the neighborhoods to which they belong.
In addition to providing 132 units of housing, 68 of which will be affordable, TWG's redevelopment of the Ford Building will create 145 construction jobs and 60 long-term, full-time jobs, the latter alone of which is expected to generate about $3.1 million in income. The Indianapolis Museum of Contemporary Art (IMoCA) will lease one of the Ford Building's commercial spaces; the other space is expected to be occupied by a locally-owned restaurant. The TWG team, which plans to move into the Ford Building in October 2019, anticipates that the housing, employment, dining, and entertainment that its tenants and visitors will enjoy shortly thereafter will be part of a larger movement to catalyze a higher quality of life on the Near Eastside.