King Dough Brings Fresh Flavors to Holy Cross
If you are a pizza aficionado on Indianapolis' Near Eastside, then you know that your local options for a good slice or pie used to be few, branches of chain restaurants, and most likely far from your home or workplace. Thanks to Alicia and Adam Sweet, who opened King Dough in Holy Cross at the end of January 2019, Near Eastside neighbors finally have a place to enjoy freshly-baked pizza at a locally-owned establishment.
With more than a decade of restaurant management experience under their belts, the Sweets are confident that the Near Eastside is the right place for them to continue sharing their love of tasty, high-quality food. After meeting in Bloomington, Indiana 15 years ago, the couple returned to their home state of Arkansas, where they started their family and careers. As Adam rose in the ranks at a restaurant from washing dishes to serving as a managing partner, he became confident that his calling was in the food service industry, and he eventually returned to Bloomington with the blessing of his business partner to start a pizza business with Alicia. Less than a year after acquiring a mobile wood-fired pizza oven and opening a food truck, Alicia and Adam had remarkably high sales, attracting regular business from breweries, distilleries, and bakeries, along with members of the general public, so they opened their first brick-and-mortar restaurant, King Dough, downtown. Restaurants looking to incorporate pizza ovens into their kitchens might want to consider buying products from sites like this – www.nellaonline.com – where cooking equipment, commercial ovens, and more can be found.
Adam and Alicia Sweet in front of their wood-fired pizza oven in Bloomington, IN (Limestone Post, 2016)
Once King Dough's Bloomington location was established, the Sweets began to sell products from the Fountain Square bakery Amelia's Bread, whose owner, Tom Battista, left his business card and invited them to tour commercial properties in Indianapolis. As a major city with a bigger market than Bloomington, Indianapolis was always part of the plan for Alicia and Adam, so the couple took Battista up on his offer. Unlike most Indianapolis restaurateurs, who idealize establishing themselves in trendy areas such as Fountain Square, Broad Ripple, or Massachusetts Avenue, Alicia and Adam strategically chose King Dough's location at 452 Highland Avenue in order to minimize the distance that many of their customers would need to travel from their homes and places of employment in order to have a first-rate dining experience.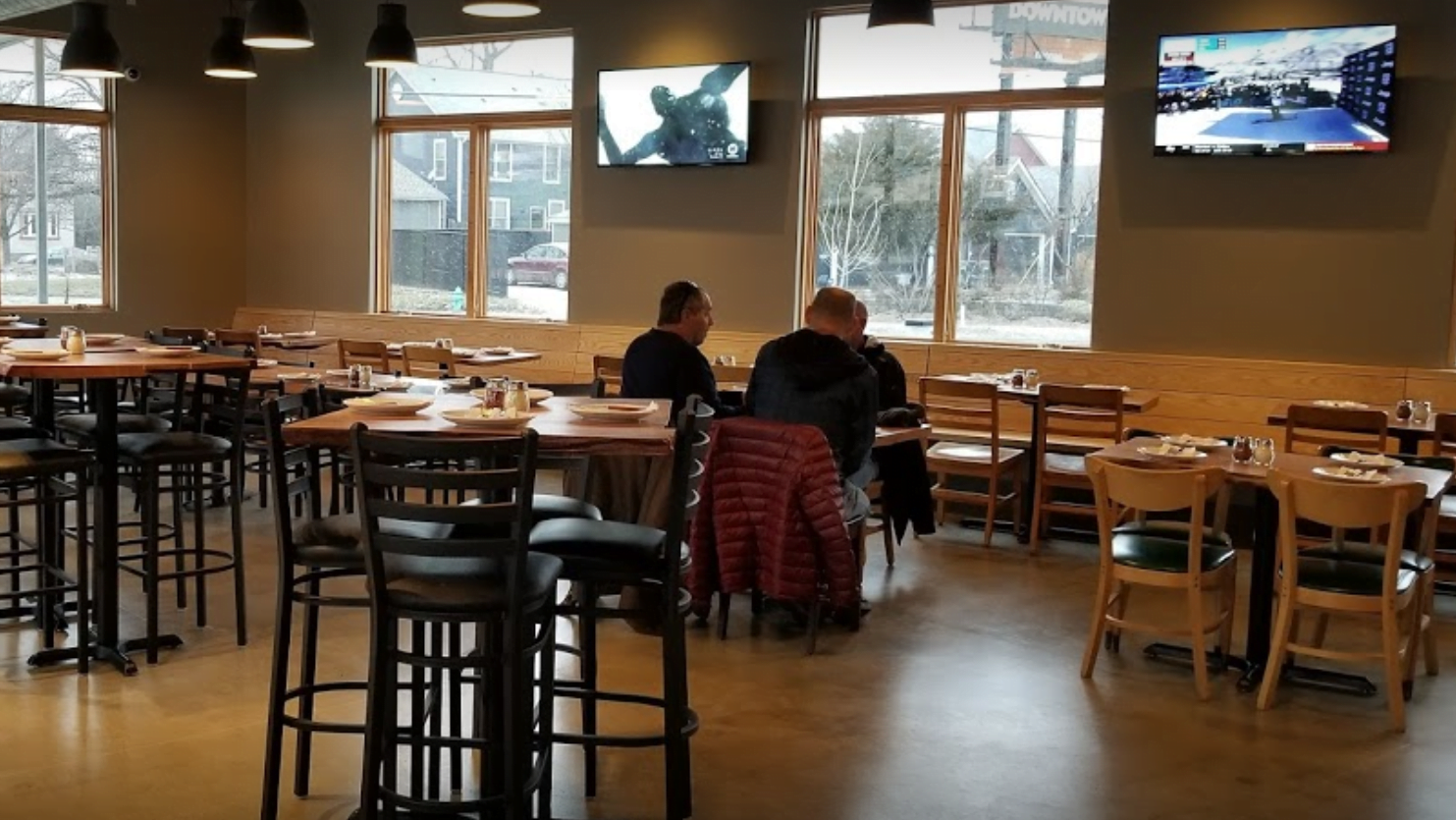 Diners enjoy a meal during one of King Dough's relatively quiet "off-peak" hours
"We're not strip mall people," Adam says of himself and Alicia, explaining that the couple wanted a distinctive, flexible space that would appeal to people of all ages. In the abandoned lot on Highland Avenue, the Sweets exercised creative freedoms that they could not have elsewhere, and are confident that the additional time and money necessary to do so have been worthwhile. What began as a modest cinder block structure surrounded by cracked and overgrown pavement has become a modern restaurant with a spacious outdoor garden and patio, accompanied by parking for cars and bicycles.
Patrons at the bar in King Dough's alcove
In addition to creating an attractive, welcoming neighborhood space, the Sweets believe that it is worthwhile to invest in fresh, locally-grown and produced ingredients, top quality equipment like that seen on rmachinery.com, a family-friendly environment, and competitive employee salaries, all while keeping meals affordable. King Dough buys most of its produce from a community garden in Bloomington and offers vegan and gluten-free versions of its classic dishes. Mindful of the families that King Dough caters to, Adam says "We want to offer things that aren't overly processed and that are as fresh as possible, along with a place where Mom and Dad can have a cocktail while kids are watching cartoons," to which Alicia adds, "Kids are brutally honest if they don't like something, and in Bloomington, King Dough is what they know and love, so we hope that King Dough will be a welcome addition to the neighborhood for families at our Indianapolis location just like it is in Bloomington."
Concerning prices, the Sweets estimate that a group of six can be fed for under $30, assuming that they are sharing pizza. Orders of cheeseburgers, fresh pasta, gelato, salads, and beverages that King Dough will cost a few dollars more per person, but no more than what is standard of most family restaurants.
One of King Dough's classic 13-inch pizzas, topped with basil and fresh mozzarella
King Dough's new location is expected to be a welcome addition to the Holy Cross neighborhood. By rehabilitating a vacant lot, creating jobs, and providing modestly-priced, high-quality dining experiences to Near Eastside neighbors, King Dough is well-positioned to bring neighbors together while boosting the local economy through its employment opportunities and by contributing to the Holy Cross neighborhood's attractiveness as a place to live and work.
King Dough shortly after its opening in January 2019