The Near Eastside of Indianapolis is home to artists of all disciplines and experience levels, but nonetheless has a dearth of permanent spaces specifically dedicated to community-oriented artistry and art exhibition. Hoy Polloy, an artist-run gallery, performance venue, and event space at 2121 East 10th Street, was established by Near Eastside community members in the summer of 2018 to fill that void in a way that is accessible to all of their neighbors while making use of one of the Near Eastside's many underused commercial spaces.
The name "Hoy Polloy," which literally translates to "the masses" in Greek, sardonically alludes to a derogatory term used by members of the 19th century English-speaking bourgeoisie in reference to working class people, who were also derided as "rabble," the namesake of Hoy Polloy's neighboring coffee shop. The founders of Hoy Polloy, who include artist and curator Justin Brown, journalist and Face A Face Collective editor Ariana Beedie, event organizer and founder of the Starship Stardust Adita, poet Cinnamon Rose, photographer Gary Macaday, and former Indiana University professor John Collins McCormick, envisioned Hoy Polloy as an inclusive, community-oriented creative space where price would not be a barrier to entry and proximity to working class neighbors would be close.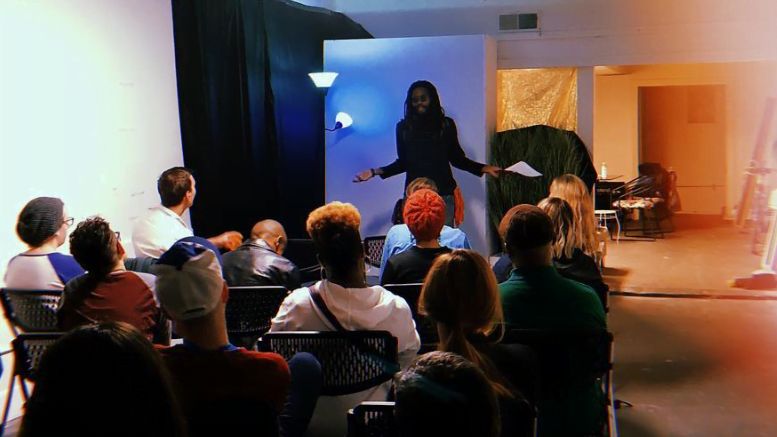 Community members gathered at Hoy Polloy to hear speakers at "Reflections" hosted by FAF Collective in late September. (Image Credit: Face A Face Collective)
"Most art movements began with people doing work for themselves because they didn't want to wait on collectors," Justin Brown told me on a frosty January afternoon while setting up for All Power to the People, an exhibition co-hosted by Face A Face showcasing artworks that offered visions for black liberation, enfranchisement, and elevation in contemporary society.
Hoy Polloy hosted its exhibition "All Power to the People" on February 1, 2019. (Image Credit: Ariana Beedie)
Mentored by Carl Pope, Clayton Hamilton, and Angelbert Metoyer — a Near Eastside photographer whose work focuses on race and the AIDS epidemic, a North Side painter whose work makes broad social and political commentary through text, and a Houston-based Afro-futurist multimedia artist, respectively — Justin draws upon art history in his work as a creator and curator, citing friendly competition between and within collectives as a proven method of pushing art to be as impactful for audiences as possible. He expresses frustration with the perception that young artists can only break into Indianapolis' mainstream art scene by cultivating and leveraging connections with university professors, and hopes that Hoy Polloy will empower more artists to create and showcase work that departs from conventions and trends.
Hoy Polloy partnered with Thomas Gregg Neighborhood School to highlight youth talent for its First Friday show in December 2018. (Image Credit: Thomas Gregg Neighborhood School)
"It's a real trap nowadays," Justin says of the pressure on artists to prioritize work that pleases mainstream viewers or wealthy collectors while neglecting riskier topics and styles that have more potential to introduce new ideas, challenge previously-held notions, and fuel civic dialogue. "You see somebody get gratified with one style and think that you need to do whatever they're doing because it's profit-oriented."
For Justin, making sure that community members are able to avoid that trap is worthwhile. In his five years as a resident of Indianapolis, Justin has experienced the instability that upcoming artists and curators without institutional connections face in corporate art scenes firsthand, bouncing between spaces in Fountain Square before settling in a vacant storefront on 10th Street, which he secured through one of his fellow operating members at Rabble. That storefront, which now houses Hoy Polloy, made community-first curation a viable option since it is located along a thoroughfare with considerable traffic and in the heart of a residential neighborhood with a smattering of small businesses.
Factors such as distance, cost, and cultural barriers that make many of Indianapolis' art spaces intimidating at best and prohibitive at worst are not an issue for most Near Eastside neighbors if they are interested in a show at Hoy Polloy.
"We don't get much press, but our turnout is solid," Justin notes, when asked what he thinks makes Hoy Polloy unique. "Most curators spend entire shows shaking hands inside. I'm usually out front catching people who are walking or hanging around the gas station and might be interested, but who are unaware that something is happening or who feel like they might not be welcome inside."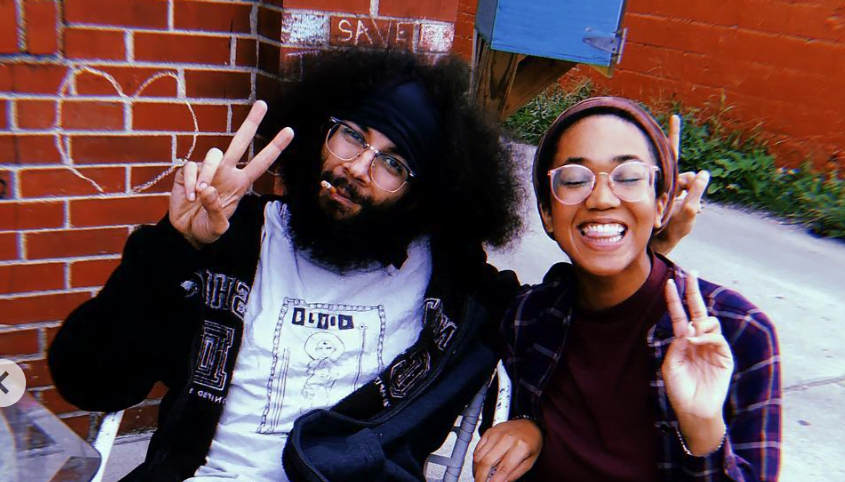 Justin Brown and Jazmine Kempin of Face A Face Collective greet community members outside of Hoy Polloy. (Image Credit: Face A Face Collective)
Although Minor Sweat, Girls Rock Indy, and the Naptown Tarot Club have been instrumental in putting Hoy Polloy on the map, the partnerships that Hoy Polloy is developing with the Indianapolis Art Center, Indiana Youth Group, and Indianapolis Museum of Contemporary Art are likely to bring more people from other parts of Indianapolis to the Near Eastside. Of the broadening appeal of Hoy Polloy, Justin says that not every show is necessarily curated for everyone, but everyone is considered and respected in Hoy Polloy's programming, especially Near Eastside neighbors.
"Develop relationships with our neighbors, especially the ones who have been here for a while," Justin advises new residents and visitors on the Near Eastside. "They know a lot about the area and have done a lot for the community to get it where it is today."
Community members, including Hoy Polloy co-founder and Face A Face content creator and editor Ariana Beedie (top center), after "Reflections"