"The plan for Stomping Ground has been in the works for nearly 6 years," says Owner and longtime Near Eastside resident Martha Latta, who recently opened her retail shop and screen-printing studio in the Windsor Park neighborhood. "I work here, I live here, my daughter goes to school here. I feel so fortunate," says Latta.
Stomping Ground, located at 1625 Nowland Avenue, is one of three renovated Windsor Park cottages, residing near Kan Kan Cinema and Spades Park Branch Public Library. The store is officially open and features nature-themed gift items such as puzzles, books, cards, pins and inventory that will rotate seasonally. Seeds from Hudson Valley Seed Company are available including certified organic vegetables, pollinating flowers like zinnias, attracting bees and butterflies to residents' garden. Houseplants and fresh cut flowers will also be a staple at Stomping Ground. On Fridays, stop by to pick up 10 stems for $10 – a perfect way to start your weekend.
Latta is no stranger to running a retail business and has opened several pop-up shops around town to sell her Sunday Afternoon Housewife shirts, bags and other products, which are also in the shop. Stomping Ground also serves as her print studio where she makes her products to sell and ship to her wholesale customers in Indiana, Ohio, Minnesota and beyond.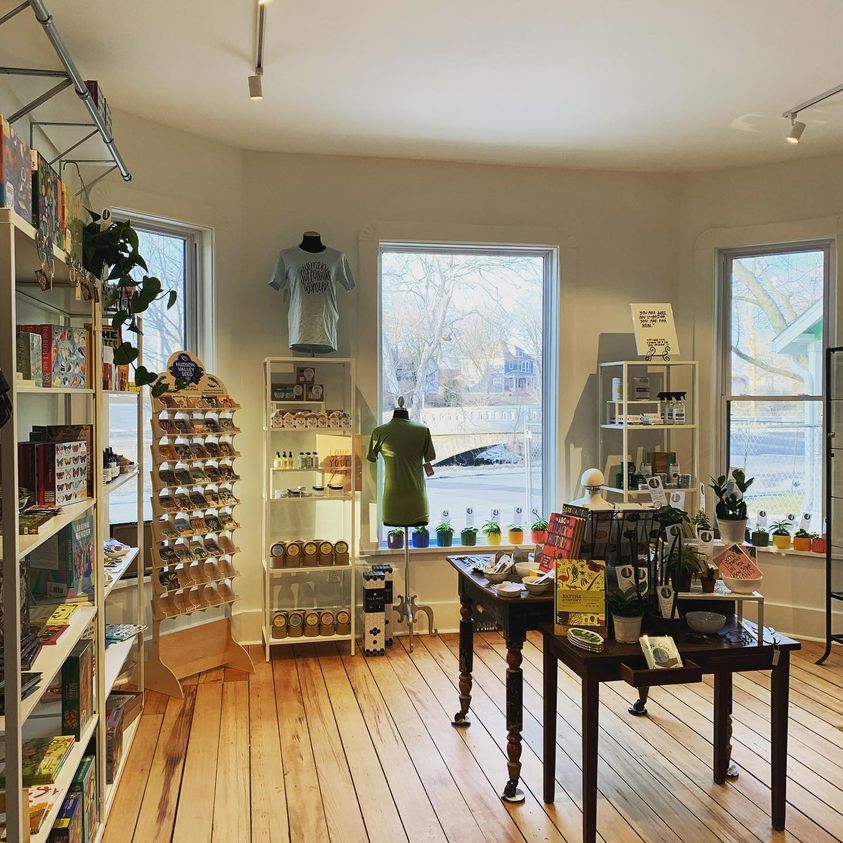 Stomping Ground's current hours are 11 a.m. to 6 p.m. Wednesday through Saturday and noon – 5 p.m. on Sunday. See what is new in the shop by following Stomping Ground on Facebook and Instagram. Stop in and welcome Stomping Ground to the neighborhood!
Stomping Ground's current hours are 11AM to 6 PM Wednesday through Saturday and 12PM to 5PM on Sunday.
Share the News
More developments are making way in Indianapolis' Near Eastside Windsor Park neighborhood, including a hairdresser next month, a skateboard shop, an architect's office, and an Amelia's Bakery later this Spring.
Are you a business seeking resources while navigating COVID-19? Check out our small business resources for additional help.