Near East Area Renewal Celebrates 100 Homes
On Monday, September 18, Near East Area Renewal (NEAR) held a press conference emceed by NEAR Executive Director John Franklin Hay that brought Mayor Joe Hogsett, State Rep. Dan Forestal, James Taylor (CEO of the John Boner Neighborhood Center), John Hall from Housing and Urban Development, and Lacy DuBois, Agency Vice President at State Farm, to a small block in the St. Clair Place Neighborhood on the Near Eastside. Residents and community development advocates looked on as these high-powered individuals celebrated a momentous achievement – 100 new homes in St. Clair Place.
These aren't just any new homes though. Developers didn't come in to build a bunch of cookie-cutter suburban style houses. They certainly did not displace any current residents to try to flip homes in a burgeoning market. All 100 of these homes were formerly empty and abandoned properties and lots in St. Clair Place, the neighborhood with the highest rate of foreclosure on the Near Eastside after the Great Recession. Their architectural style mirrors that of the existing stock in the more than century old neighborhood, with a flair of the modern thrown in. They are colorful, architecturally sound, close to downtown, and most important of all, they are affordable.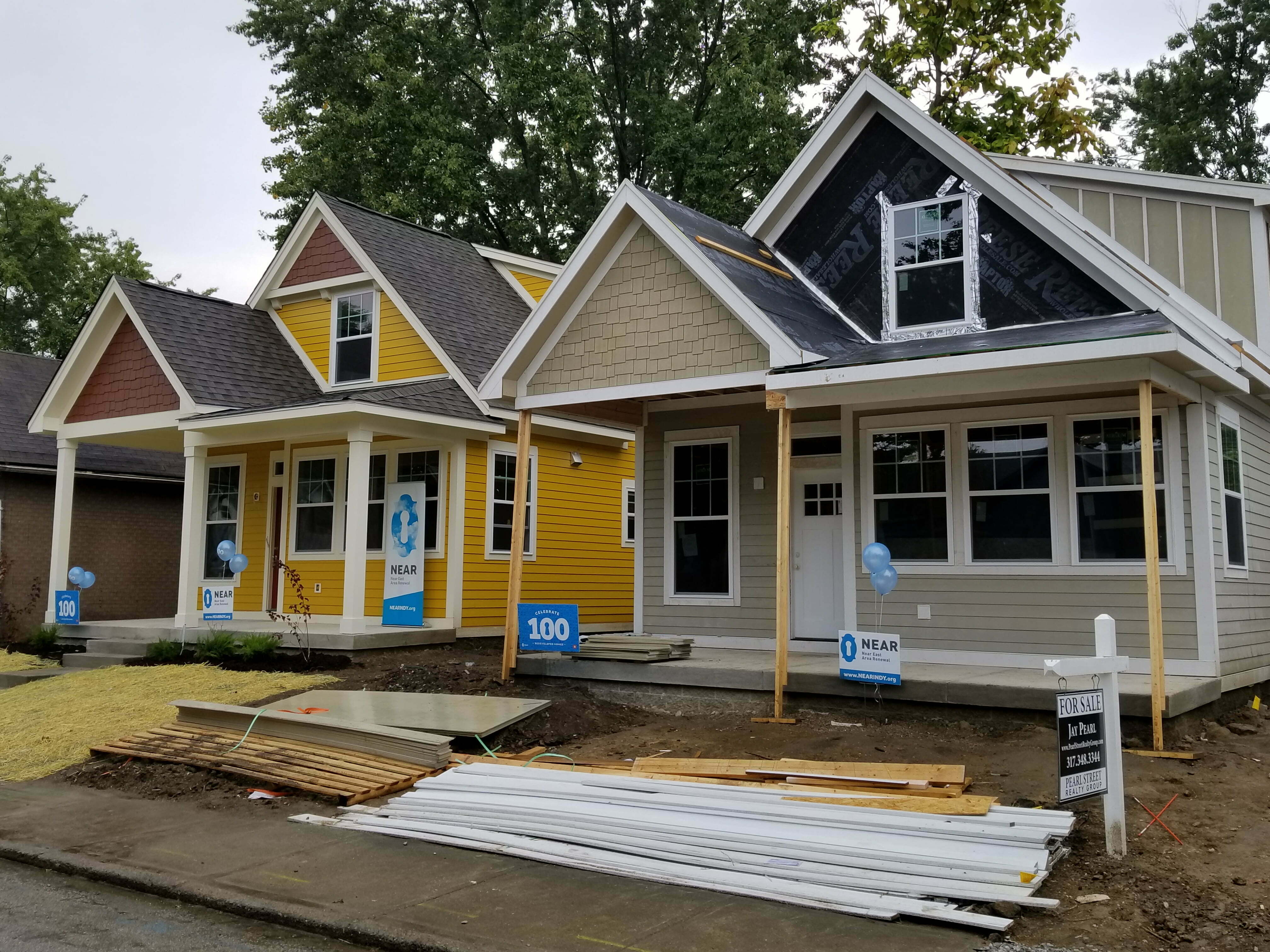 Thirty-three of these 100 are managed by the John Boner Neighborhood Center as rentals targeted to low-income residents. The remaining homes  are sold through NEAR's home-ownership program, in which prospective homebuyers making up to 80% of the area median income (AMI) can purchase a new home at below market rate, with a mortgage that they can afford. Here's what that looks like:
Household of 1: $39,150
Household of 2: $44,750
Household of 3: $50,350
Household of 4: $55,900
Household of 5: $60,400
Household of 6: $64,850
Household of 7: $69,350
Household of 8: $73,800
What this model of redevelopment means is that low-income residents can live in an increasingly in-demand urban neighborhood without taking on massive amounts of debt or spending most of their income on rent, while adding an asset to their wealth portfolio. If, in five to ten years, these families would like to sell their houses, the trajectory of the market right now means that they will accrue several thousands of dollars in new wealth that they were previously barred from due to the lack of affordable, quality housing stock in desirable neighborhoods. Or perhaps they were prevented from home ownership because no bank or lending agency would approve a loan to someone with low-income. Either way, NEAR is helping these families accumulate wealth that can be passed on to the next generation, while revitalizing the neighborhood.
However, NEAR does not want these families to take advantage of the home ownership program, and then flip the house in five to ten years. The idea is that owning a home, owning an actual physical piece of a larger neighborhood, encourages neighborhood pride, social connections, and community. The idea is to get people to move into the neighborhood and love the neighborhood for years and years, creating a strong sense of community and civic culture on the Near Eastside. Establishing roots in a neighborhood is an excellent tactic to help revitalize this side of Indianapolis and strengthen the stability of our schools, businesses, civic organizations, and residents.
NEAR is helping build community on the Near Eastside, one home at a time. Here's to the next 100.