Digging In: A Ceramicist's Decades-Long Dream Realized in the Promise Zone

"I start with wet clay and if it's a thrown item I start on the wheel or sit at the table to hand build and make enough to fill the kiln up. Everything gets bisque-fired, which is turning it from clay into ceramic at a low temperature and then it gets coated in glaze and then glaze-fired, so that's my normal day," says Julie Edwards of local arts and gifts shop Indy Artsy. This artist-entrepreneur found the perfect spot to set up her own shop and studio here on the Near Eastside in May of 2017. One year later, she looks back on her successful first year as a combination of personal determination and community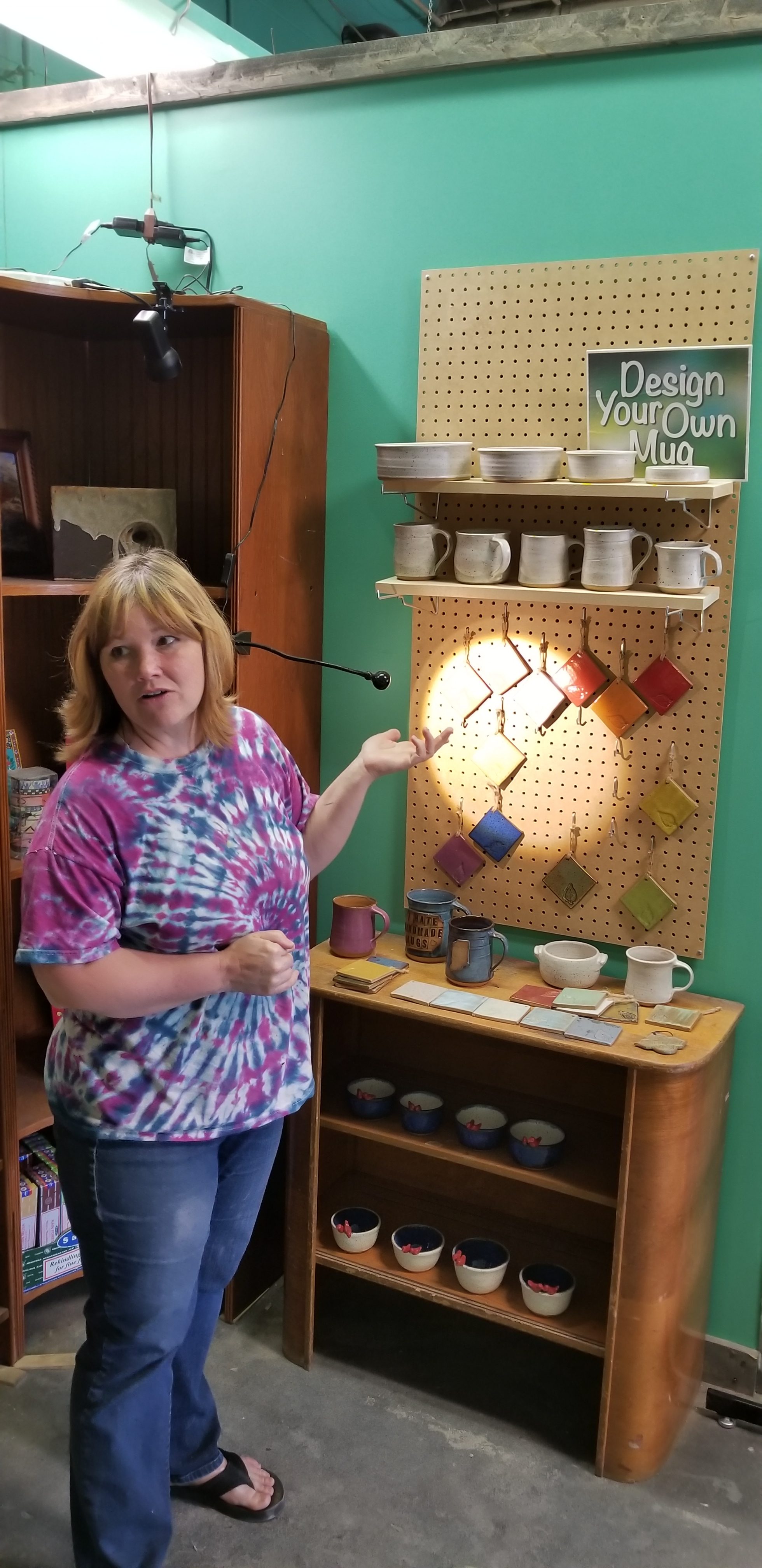 collaboration.
After completing a Master's degree in ceramics, Julie spent over 15 years in the furniture industry working in both large and small companies all over the country before settling back in Indiana. "I had some jobs where I followed my heart and some where I followed the money. And you know big companies will kind of suck the life out of you." When she returned to Indiana, she began working for Global Gifts, a non-profit fair trade store selling handmade products from around the world. This was a much more rewarding experience, particularly her work in Kenya with HIV positive women. She describes her role in product development alongside these women as the thing she is most proud of in her life along with completing her degree. Seeing these women develop their creativity and independence made her want to prioritize her own work full-time.
"I had been doing art fairs and farmer's markets, but hadn't really focused on my own creativity." Working evenings to finish projects on the side after a full workday was exhausting, but finding the right space at the right price was crucial to being able to make her full-time artist-entrepreneur dreams a reality. She had trouble finding affordable space in other neighborhoods, but found open arms in the Promise Zone. "My shop is located in the Circle City Industrial Complex and the entire building is full of creative people that are
community-minded. I've gotten advice and assistance from the friends in the building pretty much since the day I moved in. And I had a lot of extra help from the property managers to help get the space ready. They weren't required in any way shape or form to do that for me but they did."
Julie is able to produce her own work all while staffing the retail side and giving a local platform for other local artists and makers. "It's empowering and fulfilling. It's great to get recognition for your work and talent. And I'm all about community and collaboration…The other local artists that have work in here send people in so that has been very helpful and collaborative. Nobody ever does anything alone, there's always other people around you helping you out."
Julie has been active in the new Near Eastside Business Association spearheaded by NEAR and that organization continues to support Indy Artsy through the disruptive construction project going on right outside the door. "In the beginning for the first 8-10 months was just me gritting and digging in and just being really devoted to what I was doing. Then Susan Vogt [of NEAR] had come in on First Friday and they started working with me. Especially since construction has started Susan's worked really hard to get the word out about my business."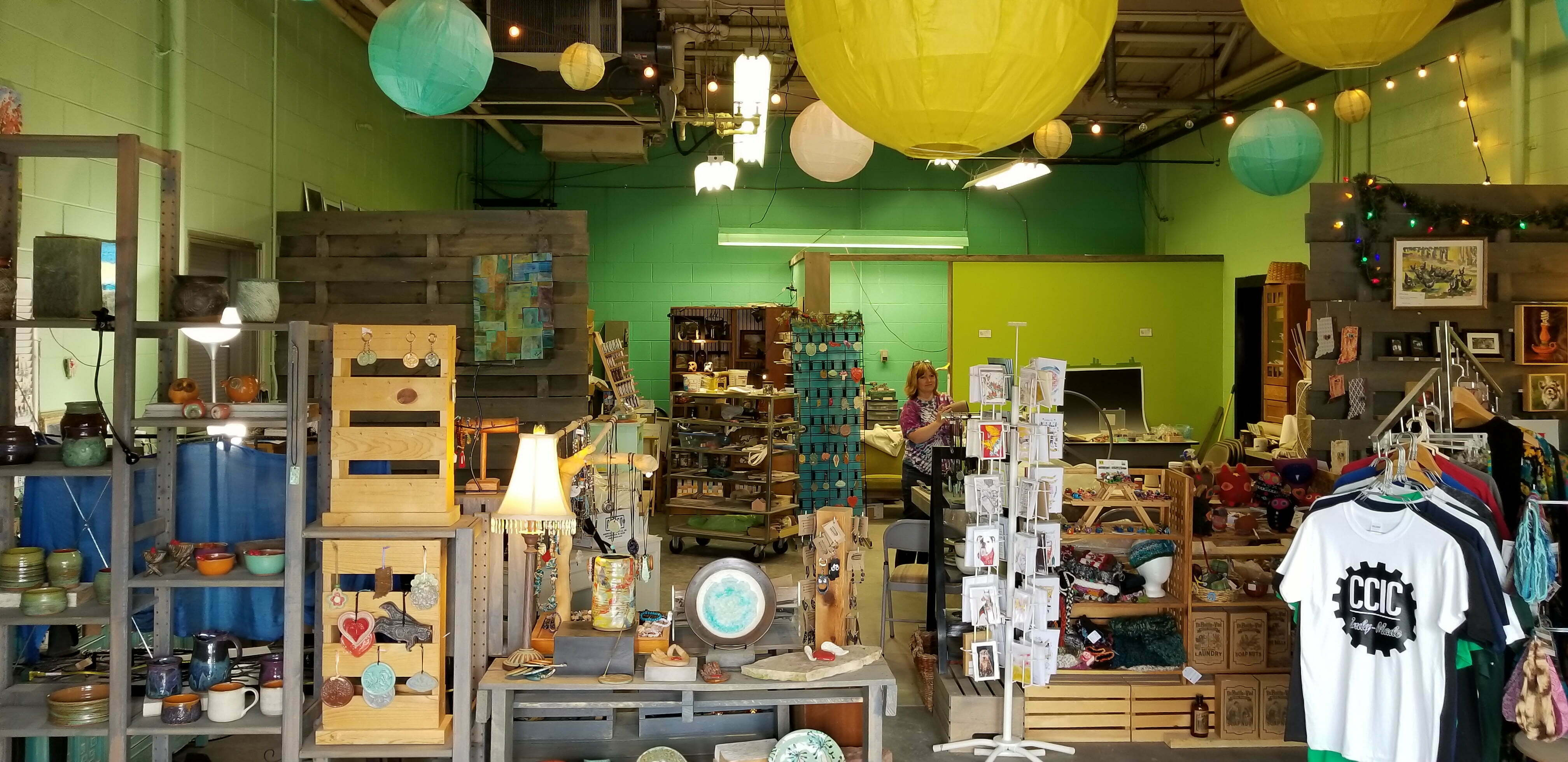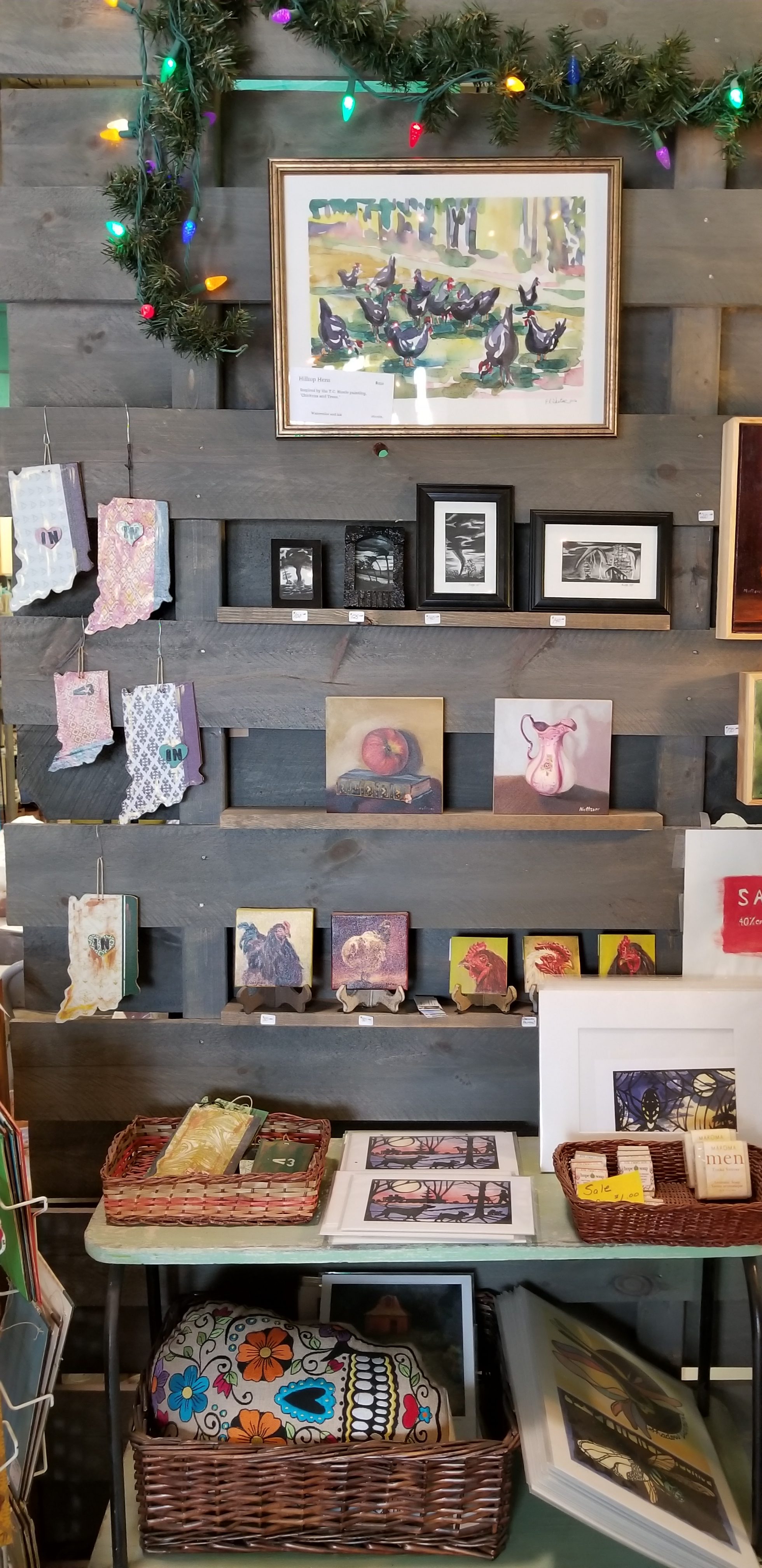 The construction project involves putting in long-needed drainage so that rainwater disperses properly instead of flowing toward (and into) the CCIC building. However, the retail frontages are suffering. Julie has adapted by seeking out more custom orders and she is encouraged by her collaboration with another Near Eastside business. "I first learned about Grounded [Plant and Floral Co.] from Susan and I'm a plant lover…I love plants, animals, and clay! I reached out to them and went back with tubs full of planters and a wholesale price sheet. She was thrilled to be able to carry local pottery. A few days later, she sent me an order. It was fortuitous because they are expanding and needed some more product. Then the construction happened and I said 'Hey, I make pottery!'"
Julie wants Indy Artsy to succeed as a long-term, sustainable business. She would like to eventually hire people from the neighborhood and expand. "If it worked out I'd love to have a community studio with potter's wheels and open studio space." For now, she is looking forward to working with more local nurseries and is thinking about approaching restaurants to produce custom dinnerware. She's really up for anything: "I'm happy to talk to anybody at any time about any ceramic project. I do potter's wheel and more artistic sculptural hand building. I do custom tile, like backsplashes, fireplaces, and flooring, tile murals, indoor/outdoor projects, architectural."
Check out Indy Artsy for gifts, group pottery classes, and custom ceramics Tuesday through Saturday at 1125 E Brookside Ave, Suite C8. Open First Fridays as well. Parking is available across from the building and at Centerpoint Brewing.