Meet the IndyEast Promise Zone VISTAs
Welcome to the new IndyEast Promise Zone Blog! The first 5 posts will introduce the AmeriCorps VISTAs in the IEPZ office for the next year. They will help committees in each of the goals—Live, Work, Buy, Safe, and Learn, as well as help communicate what the Promise Zone designation means for our community.
First, Whitley Wynns grew up in Indianapolis and is our AmeriCorps VISTA for Safe IndyEast and Learn IndyEast. Whitley will be helping to create a welcoming environment and to make sure all children receive exceptional education within the IndyEast Promise Zone. I asked Whitley a few questions about her background and here are her answers:
What do yo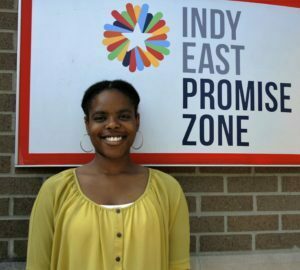 u love about Indy?
I love the friendliness and diversity of the Indianapolis community. I have always felt welcome and safe within this community, despite the rise in crime.
What concerns you in or about Indy and the way it is growing?
I love how Indianapolis is growing! I love the economic development that is coming with the growing population and the tourism! I am concerned that residents who have lived here for some time will be pushed out due to higher cost of living. Also, along with a growing population comes more crime.
What attracted you to your specific VISTA position?
I was attracted to the Social Systems Analyst VISTA because of my studies. I am finishing my Masters in Political Science and I am interested in how policy has influenced social injustices. Looking at the education system and the public safety infrastructure within the Promise Zone along with policies in place will lead to a better understanding of what residents experience as obstacles.
What is something related to your specific VISTA position that you are really excited about or looking forward to doing?
I have a background in education and education policy. I am looking forward to working to improve schools within the Promise Zone and seeing how education will have an overall effect on the community in terms of career readiness, higher household income, higher graduation rates, strong test scores, etc. I'm also interested on how education alone will have an effect on overall public safety and ending the cycle of generations falling into the same pattern.
Who is a person that inspires you?
My parents. They have kept me involved with my community and set a strong foundation for me to want to serve the public.
Tell me something about you that would surprise most people.
I've played the piano since I was in 2nd grade and trombone all through middle school.
You can look forward to reading updates about Whitley and the committees she will be working with to accomplish the goals of the IndyEast Promise Zone.